MARLEY & MOONRISE KINGDOM
August 29 2013
So – after whiling away a lazy afternoon watching I Know Where I'm Going last week, this week I went out with a chum to see the Bob Marley documentary directed by Kevin Macdonald – coincidently, he's Pressburger's grandson – so it was kind of keeping it in the family with the two films.  Marley is a fascinating documentary, a real insight into Bob Marley's life, his family, his dreams, his music.  With footage never seen before and permission from Marley's family to use it,  interviews with his various wives, girlfriends, children and many people who worked with him – Kevin tells the story of an extraordinary man and musician who sadly died so young – just 36.  Definitely recommended viewing!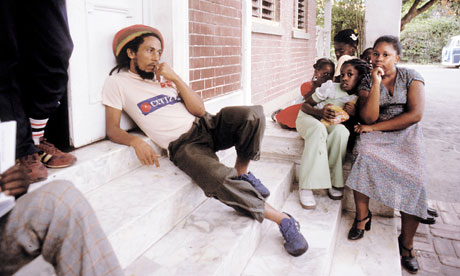 And to top that – if it's possible.  One of the trailers preceding Marley was for Wes Anderson's new film Moonrise Kingdom.  What a delight this films looks to be and I can't wait to see it.  There's a brilliant cast: Bill Murray, Edward Norton, Frances McDorman and Bruce Willis….  but it isn't just the cast that's so intriguing – it's the production design of the film and the wonderful props!   At the end of the trailer is this shot:
I just love this little tartan bag at the right hand side.  I had to know if it was vintage or retro, so that I might be able to buy one so I got googling.  A few emails later the Props Master of the film, Sandy Hamilton, kindly got back and told me it was vintage and in the spirit of a Scottish boy's school bag.   You can view the whole trailer here:
http://www.youtube.com/watch?v=7N8wkVA4_8s
Be prepared for a visual delight!  Can't see any reviews yet but I will be there as soon as it's opened for sure.